"Musical Expressions" - Student Tour
It's Showtime
Destinations:
Williamsburg, Jamestown, Yorktown and Norfolk

Three Days/Two Nights
Call us today at 800.378.1571 or request information.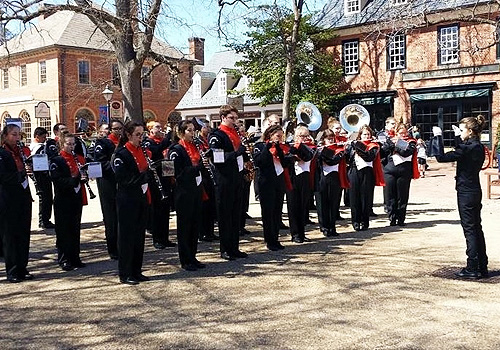 Look no farther than Williamsburg, VA for exciting performance opportunities!
It's "showtime" at Colonial Williamsburg and Busch Gardens Williamsburg for choral groups, jazz ensembles and bands!
Imagine performing in the heart of Colonial Williamsburg at Merchants Square where in the 18th-century music was not just a part of society, it was society! Or how about performing on the Italy stage at Busch Gardens Williamsburg? Both sites provide high-quality venues and opportunities complete with appreciative audiences!
Busch Gardens Williamsburg is well known for providing high-quality entertainment to their guests and they know and appreciate the many hours of practice and rehearsals that band and choral groups complete in order to excel. They understand the hard work and dedication of performing groups and encourage and welcome band and choral groups to perform at the park for a one-of-a-kind performance opportunity. Whether performing at the Main Gate or on stage in Italy, groups are assured a great experience. Busch Gardens Williamsburg is proud to provide today's performing youth with an opportunity to entertain park visitors in a friendly and safe environment. In addition to the park's regular season, they are also open weekends beginning the day after Thanksgiving through New Year's Day for Christmas Town (except Christmas Day when the park is closed). Christmas Town is an immersive experience amid millions of twinkling lights with the best holiday traditions from around the world represented. Santa Claus visits the park each evening to hear Christmas wishes from the young and young-at-heart. Band and choral groups are invited to participate in this very special event and showcase their favorite holiday music and songs.
We are delighted to partner with Busch Gardens Williamsburg, Colonial Williamsburg, Jamestown, Yorktown and other exciting attractions to assist performing groups with their arrangements. We look forward to making beautiful music with you!
Suggested Performance sites:
| Venue | Choirs | Bands |
| --- | --- | --- |
| Colonial Williamsburg | ♫ | ♫ |
| American Revolution Museum at Yorktown | ♫ | ♫ |
| Busch Gardens Williamsburg | ♫ | ♫ |
| Christmastown Busch Gardens (R) Williamsburg | ♫ | |
| Bruton Parish Church | ♫ | |
| Jamestown Settlement | ♫ | ♫ |
| Merchants Square | ♫ | ♫ |
| USS Wisconsin, Norfolk | ♫ | ♫ |
Your Connection to Williamsburg