Colonial Williamsburg; Courtesy of Colonial Williamsburg Foundation
"Colonial Classic" - Student Tour
A classic student trip with the perfect balance of education and fun
Destinations:
Williamsburg, Jamestown, Yorktown and Busch Gardens

 Three Days/Two Nights
Call us today at 800.378.1571 or request information.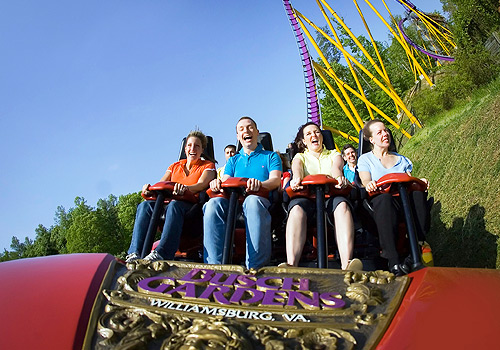 11:00am
Meet your Colonial Connections Tour Manager at Jamestown Settlement
---
11:00am-1:00pm
Tour Jamestown Settlement
Connect with the experiences of the 17th-century colonists as you explore Jamestown Settlement, the recreation of the first permanent English settlement in America. Tour indoor galleries, talk with costumed interpreters, and visit the re-created James Fort and Powhatan Indian village. Board full-size replicas of the Susan Constant, Discovery and Godspeed - the three ships that brought settlers to Virginia in 1607.
---
1:00pm-2:00pm
Lunch provided
---
2:15pm-4:15pm
Tour Historic Jamestowne and Glassblowing Exhibit
A National Park Service site, Historic Jamestowne offers a wealth of activities for exploring the first permanent English settlement in North America. Overlooking the scenic James River, Historic Jamestowne boasts the only remaining 17th-century above ground structure – the church tower - and reconstructed 17th-century Jamestown Memorial Church. See the original site of the 1607 James Fort and more than 1,000 artifacts at the Archaearium, a museum of Archaeology. Learn the trade of 17th-century glassblowing from artisans as they create exquisite glass pieces of the period.
---
4:30pm
Check into your Williamsburg hotel
All properties used by Colonial Connections have an indoor pool and interior corridors for added security.
---
5:30pm-6:30pm
Dinner provided
---
6:45pm
Return to the hotel
---
7:00pm-8:00pm
Early American Medical Program at your Williamsburg hotel
This program focuses on the practices of medicine in the 18th century when the treatment was oftentimes worse than the illness or injury. Examine and compare the contents of a practicing physician's bag and participate in a mock amputation and dental extraction.
---
8:30pm
Remain at hotel or optional shopping at the Williamsburg General Store or Yankee Candle
---
10:00pm-4:00am
Private hotel security provided. Colonial Connections Tour Manager departs.
Day 2 - Williamsburg, Yorktown
8:00am
Deluxe Continental breakfast at your Williamsburg hotel
---
8:45am
Depart with your Colonial Connection Tour Manager for a full day of touring
---
9:00am-12:30pm
Tour Colonial Williamsburg, the Revolutionary City
Explore the nation's largest living history museum. From 1699 to 1780, Williamsburg was the political and cultural center of Britain's largest colony in the New World. In the shops, taverns, government buildings, homes and streets, George Washington, Thomas Jefferson, Patrick Henry, George Mason and other Virginia Patriots debated the ideas of liberty, independence, and personal freedoms that led to the founding of American democracy and inspired generations of Americans and others from around the world.
---
12:30pm
Enjoy a Boxed Lunch en route to Yorktown
---
1:00pm-2:30pm
Riding tour of the Yorktown Battlefield including Surrender Field and the Yorktown Victory Monument
See where American independence was won. Earthworks and siege lines mark positions of British and American forces, cannons stand ready behind the embattlements, and Surrender Field is a silent reminder of English General Cornwallis' capitulation. Visit the Yorktown Victory Monument and see Cornwallis' Cave, where legend has it that the English General and his staff sought refuge from the bombardment by American and French forces.
---
2:45pm-4:45pm
Tour the American Revolution Museum at Yorktown
Gain a new appreciation and understanding of our nation's beginnings at the American Revolution Museum at Yorktown where America's evolution from Colonial status to nationhood is chronicled.  Outdoor living history areas include a re-created Continental Army encampment and 1780s farm.
---
5:30pm-6:30pm
Buffet Dinner
---
7:00pm-8:00pm
Colonial Hauntings Tour (candlelight walking tour)
When darkness falls another side of Williamsburg emerges ... it's a different place after sunset - full of mystery and intrigue. Journey by candlelight through the streets of Colonial Williamsburg, listening to eerie tales of Williamsburg's only witch trial, Black Beard and his crew, the questionable Lady Skipwith, Lucy of Ludwell and ghostly parties at the Raleigh Tavern. Some stories last more than a lifetime!
---
8:15pm
Return to the hotel
Day 3 - Busch Gardens Williamsburg
8:00am
Deluxe Continental breakfast at your Williamsburg hotel
---
9:00am
Check-out of hotel and depart for Busch Gardens Williamsburg
---
9:30am-5:00pm
Visit Busch Gardens Williamsburg
Busch Gardens Williamsburg is an action-packed, European-themed adventure park combining 17th-century charm with 21st-century technology to create the ultimate adventure park experience. Situated on the James River minutes from Colonial Williamsburg, Busch Gardens Williamsburg boasts more than 50 thrilling rides and attractions, Broadway-style main stage shows, a wide variety of award-winning cuisine and world-class shops. Voted the "World's Most Beautiful Park" every year since 1990.
---
5:15pm
Depart for home
Your Connection to Williamsburg