"Faith and Freedom" - Adult Tour
Religious freedom and historic churches
Destinations:
America's Historic Triangle, New Kent County, Charles City County and Richmond

Four Days/Three Nights
Call us today at 800.378.1571 or request information.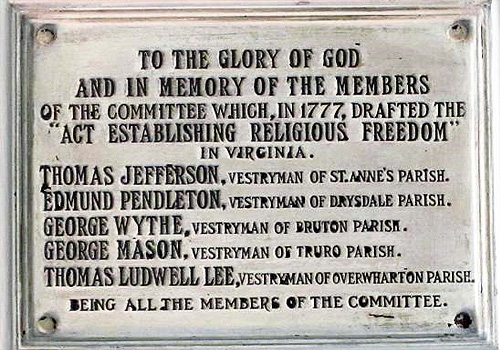 4:00pm
Check-in to your Williamsburg hotel (includes round-trip baggage handling). Your Colonial Connections Tour Manager will meet you upon arrival.
Choose from limited to full-service properties with exterior or interior corridors, indoor or outdoor pools, with deluxe continental breakfast or full breakfast buffet, priced from budget and moderate to deluxe.
---
5:30pm-7:00pm
Dinner at Golden Corral
Golden Corral family-style restaurants offer the biggest buffet and grill available anywhere. Their famous buffet contains an array of food choices including hot meat options, pasta, pizza, fresh vegetables, salad bar, a selection of carved meats and fresh baked goods and tempting desserts.
---
7:30pm
Return to hotel or optional shopping at Premium Outlets. Colonial Connections Tour Manager departs.
Continuously ranked within the top 10 shopping centers in the outlet industry, Premium Outlets
Williamsburg has 135 of the hottest brand name stores. You'll find impressive savings of 24%-65% every day from leading designer and name brands includes Ann Taylor, Banana Republic, Burberry, Coach, Cole Haan, Donney & Burke, Gap Outlets, Hugo Boss, Michael Kors, Nike, Polo Ralph Lauren Factory Store, Under Armour and more.
8:00am
Deluxe Continental breakfast provided at your Williamsburg hotel
---
8:45am
Depart with your Colonial Connections Tour Manager for a full day of touring
---
9:00am-1:00pm
Guided tour of Colonial Williamsburg, the Revolutionary City, including Bruton Parish Church
Explore the nation's largest living history museum. From 1699 to 1780, Williamsburg was the political and cultural center of Britain's largest colony in the New World. In the shops, taverns, government buildings, homes and streets,  George Washington, Thomas Jefferson, Patrick Henry, George Mason and other Virginia Patriots debated the ideas of liberty, independence, and personal freedoms  that led to the founding of American democracy and inspired generations of Americans and others from around the world.
Among the men of the Revolution who attended Bruton Parish Church were Thomas Jefferson, George Washington, Richard Henry Lee, George Wythe, Patrick Henry, and George Mason. But the building's history, and that of its churchyard, goes back further in time. Dating from 1715, the present structure is the third in a series of Anglican houses of worship that began in 1660. The first, which may or may not have been at or near the 18th-century site, was built, probably of wood, in the Old Fields at Middle Plantation, Williamsburg's name until the 66-year-old community was incorporated in 1699. Formed from Middletown and Marston Parishes in 1674, Bruton Parish is named for Bruton, Somersetshire, in England, the home of then-Governor William Berkeley and Virginia secretary Thomas Ludwell.
---
1:00pm-2:30pm
Enjoy lunch at Merchants Square (on own)
Located adjacent to Colonial Williamsburg, Merchants Square is an 18th-century style retail village with more than 40 shops and restaurants. The shops at Merchants Square offer everything from traditional and designer clothing to handmade candies, antique quilts, folk art and a variety of exclusive Williamsburg reproductions. The restaurants on Merchants Square offer choices from a quick sandwich to the freshest seafood, steaks or contemporary American regional cooking.
---
2:45pm
Depart for First Baptist Church
---
3:00pm-3:45pm
Visit the First Baptist Church of Williamsburg
Originated in the 1700's with a quest by courageous slaves and free black worshipers who simply wanted to worship their God in their own way. In their search, they left the church of the slave owners, Bruton Parish, where worship was restrained and segregated, and built the first brush arbor at Green Spring Plantation to gather secretly in song and prayer. Worshipers soon moved to a more convenient spot, Raccoon Chase, where Robert F. Coles, a compassionate white landowner in Williamsburg, inspired by the worshipers' stirring songs and soulful prayers, offered the use of his Carriage House on Nassau Street as a meeting place sometime in 1776.
---
4:00pm
Return to hotel and relax before dinner
---
5:30pm-7:00pm
Dinner at Doraldo's Italian Restaurant
A vacation in Williamsburg for a New York restaurateur and his family was the beginning. He and his family decided to stay in the area and the result is this cozy Italian eatery. Meals begin with a basket of garlic bread knots and salads are served family style.
---
7:15pm-8:15pm
Shop at Yankee Candle Village
With 10,000 square feet of unique, interactive shopping and fun entertainment it's more than you can imagine. This location is one of the world's largest candle stores with 250,000 candles and more than 150 different scents. In the Holiday Park you can experience the Christmas spirit everyday and original animated musical entertainment and activities like candle dipping provide something for everyone.
---
8:30pm
Return to the hotel. Colonial Connections Tour Manager departs.
Day 3 - New Kent County, Charles City County, Jamestown, Yorktown
8:00am
Deluxe Continental breakfast provided at hotel
---
8:30am
Depart with your Colonial Connections Tour Manager for another full day of touring
---
9:15am-10:00am
Visit St. Peter's Parish (in New Kent County)
St. Peter's Parish in New Kent, VA was established in 1679. Construction on the present church building began in 1701 and was completed by 1703. A parish with a rich and interesting history, St. Peter's has been a church home to countless people through the years, including some as well known as George and Martha Washington, who were married in this parish (and possibly in the church building itself) in 1759. Robert E. Lee and his family worshipped here and helped rebuild the church after the War Between the States. The church was designated as "The First Church of the First First-Lady" by the Virginia General Assembly in 1960 and added to the National Register of Historic Places in 1969.
---
10:30am-11:30am
Visit Westover Episcopal Church (in Charles City County)
Westover Episcopal Church was established in close proximity to the original settlement at Jamestown in 1613. The predecessor of the existing Westover Church was constructed between 1630 and 1637 on Westover plantation. About 1730 the construction of the present Westover Church was completed. For almost thirty years after 1803, Westover Church lay abandoned. In 1833 religious services were revived and the Church structure was repaired and restored. Badly wrecked by Federal troops, through their misuse of the building as a stable during the Civil War, old Westover Church was once more restored to service in 1867 and has been faithfully supported ever since.
The silver that belongs to Westover Parish includes a chalice and paten, both marked London 1694-95. Down through the centuries farmers, plantation owners, slaves and Presidents, including Washington, Jefferson, Harrison, Tyler and Theodore Roosevelt, have worshiped at Westover Parish.
---
11:30am-12:30pm
Depart for Jamestown and enjoy a gourmet boxed lunch en route (provided)
---
12:30pm-1:45pm
Tour Historic Jamestowne including the remains of Jamestown Church
A National Park Service site, Historic Jamestowne offers a wealth of activities for exploring the first permanent English settlement in North America. Overlooking the scenic James River, Historic Jamestowne boasts the only remaining 17th-century above ground structure – the church tower - and reconstructed 17th-century Jamestown Memorial Church. See the original site of the 1607 James Fort and more than 1,000 artifacts at the Archaearium, a museum of Archaeology.
---
1:45pm-2:15pm
Travel to Yorktown via the Colonial Parkway
Travel along both the James and York Rivers, the same route taken by colonists between the two settlements.
---
2:15pm-3:00pm
Visit Grace Church (in Yorktown)
The sturdy marl walls of Grace Church have been standing since 1697 despite the ravages of war during the two sieges of Yorktown (1781 and 1862) and despite the "great fire" of 1814. It continues, as it has for generations, to serve the York-Hampton Parish in the Episcopal Diocese of Southern Virginia. The church celebrated its 300th anniversary in 1997.
---
3:00pm-3:45pm
Riding tour of the Yorktown Battlefield including Surrender Field and the Yorktown Victory Monument
See where American independence was won. Earthworks and siege lines mark positions of British and American forces, cannons stand ready behind the embattlements, and Surrender Field is a silent reminder of English General Cornwallis' capitulation. Visit the Yorktown Victory Monument and see Cornwallis' Cave, where legend has it that the English General and his staff sought refuge from the bombardment by American and French forces.
---
4:15pm
Return to the hotel to relax before dinner
---
5:30pm-7:00pm
Dinner at the Whaling Company
Long recognized as Williamsburg's seafood specialist, the Whaling Company prides itself on the freshest fish in town and melt-in-your-mouth hand cut steaks. Since everything is made-to-order, every item is a "special!" Charming New England boathouse atmosphere.
---
7:30pm-8:30pm
"Cry Witch" – A Colonial Williamsburg Evening Program
Participate in a dramatized charges of witchcraft brought against Grace Sherwood in 1706. The audience is invited to question the witnesses, weigh the evidence and determine the guilt or innocence of "the Virginia Witch."
---
9:00pm
Return to the hotel. Colonial Connections Tour Manager departs.
7:30am
Deluxe continental breakfast at your Williamsburg hotel. Colonial Connections Tour Manager rejoins group to facilitate check-out and baggage handling.
---
9:00am
Depart for Richmond
---
10:00am-11:00am
Visit St. John's Church
St. John's Church became famous as a living memorial to American liberty when 120 Virginia colonial leaders including George Washington, Thomas Jefferson, Richard Henry Lee, Thomas Nelson, Jr., and Patrick Henry met there in the spring of 1775 to avoid the wrath of Royal Governor Lord Dunmore in Williamsburg. The Second Virginia Convention originally called to consider the recent proceedings of America's first Continental Congress became the setting for Patrick Henry's bold call for arming the colony of Virginia.
---
11:00am
Depart for home. Colonial Connections Tour Manager departs.
Your Connection to Williamsburg