Archeological dig at Historic Jamestowne. Courtesy of Preservation Virginia.
"Sticks & Stones, Buried Bones" - Adult Tour
Explore what lies beneath Virginia's soil
Destinations:
America's Historic Triangle, Virginia Beach, Hampton, Norfolk, Portsmouth and Richmond

Six Days/Five Nights
Call us today at 800.378.1571 or request information.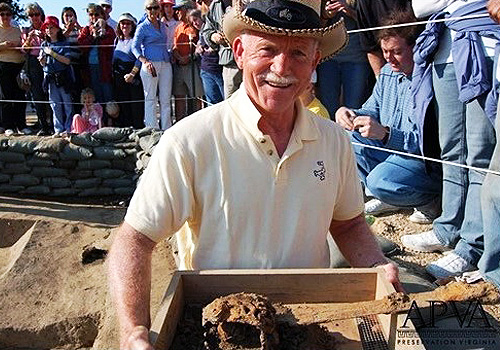 12:30pm
Meet your Colonial Connections Tour Manager at Historic Jamestowne
---
12:30pm-2:30pm
Guided tour of Historic Jamestowne focusing on the Jamestown Rediscovery Archeology Dig
Begun in 1994 as a 10 year project with the hopes of finding some evidence of the original 1607 James Fort, for over two centuries thought lost to river shoreline erosion, this project is still going strong. Today, archaeologists have rediscovered much of the fortification and have recovered over a million artifacts that tell the true story of Jamestown.
A National Park Service site, Historic Jamestowne offers a wealth of activities for exploring the first permanent English settlement in North America. Overlooking the scenic James River, Historic Jamestowne boasts the only remaining 17th-century above ground structure – the church tower - and reconstructed 17th-century Jamestown Memorial Church. See the original site of the 1607 James Fort and more than 1,000 artifacts at the Archaearium, a museum of Archaeology.
---
3:00pm-5:00pm
Guided tour of Jamestown Settlement focusing on the influence of archeology on the re-created James Fort and Powhatan Indian village
Connect with the experiences of the 17th-century colonists as you explore Jamestown Settlement,  the recreation of the first permanent English settlement in America. Tour indoor galleries, talk with costumed interpreters, and visit the re-created James Fort and Powhatan Indian village. Board full-size replicas of  the Susan Constant, Discovery and Godspeed - the three ships that brought settlers to Virginia in 1607.
---
5:30pm
Check-in to your Williamsburg hotel (includes round-trip baggage handling)
Choose from limited to full-service properties with exterior or interior corridors, indoor or outdoor pools, with deluxe continental breakfast or full breakfast buffet, priced from budget and moderate to deluxe.
---
Dinner and evening at leisure (on own).
7:45am
Deluxe Continental breakfast at your Williamsburg hotel
---
8:45am
Depart for a full-day of touring with your Colonial Connections Tour Manager
---
9:00am-12:00pm
Guided tour of Colonial Williamsburg
Explore the nation's largest living history museum. From 1699 to 1780, Williamsburg was the political and cultural center of Britain's largest colony in the New World. In the shops, taverns, government buildings, homes and streets,  George Washington, Thomas Jefferson, Patrick Henry, George Mason and other Virginia Patriots debated the ideas of liberty, independence, and personal freedoms  that led to the founding of American democracy and inspired generations of Americans and others from around the world.
This tour will focus on 18th-century architecture and the influence of archeology as it relates to the restoration of the Historic Area.
---
12:00pm-2:00pm
Lunch and free time for shopping at Merchants Square (on own)
Located adjacent to Colonial Williamsburg's Historic Area, Merchants Square is an 18th-century style retail village with more than 40 shops and restaurants. The shops at Merchants Square offer everything from traditional and designer clothing to handmade candies, antique quilts, folk art and a variety of exclusive Williamsburg reproductions. The restaurants on Merchants Square offer choices from a quick sandwich to the freshest seafood, steaks or contemporary American regional cooking.
---
2:00pm-5:00pm
Visit the DeWitt Wallace Decorative Arts Museum, Abby Aldrich Rockefeller Folk Art Center and Bassett Hall or continue self-guided tours of the Historic Area
---
5:00pm
Dinner in a Colonial Tavern
Taverns were not only an integral part of colonial life in America, but were also a necessity. The modes of travel and transportation of the day mandated the location of a tavern every few miles on the main thoroughfares, where tired and hungry travelers could find food and drink and a bed or floor upon which to sleep. Each of the operating taverns located in Colonial Williamsburg's Historic Area is inspired by a different style of colonial-era cooking.
---
7:30pm
Return to the hotel or optional shopping at Yankee Candle Village. Colonial Connections Tour Manager departs.
Day 3 - Yorktown, Williamsburg
7:45am
Deluxe Continental breakfast at your Williamsburg hotel
---
8:45am
Depart for a full-day of touring with your Colonial Connections Tour Manager
---
9:15am-11:00am
Guided tour of Historic Yorktown and the Yorktown Battlefield
Yorktown witnessed the last major battle of the American Revolutionary War, a 17-day siege where General Washington successfully surrounded and defeated the British army. See the Moore House, where on October 18, 1781, officers from both sides met to negotiate the surrender terms for Cornwallis's army. Visit the Nelson House, home of Thomas Nelson, Jr. (1738-89), Yorktown's most famous son and one of the signers of the Declaration of Independence. Nelson's devotion to the patriot cause during the American Revolution contributed significantly to the creation of the United States. The Nelson House is one of the finest examples of early Georgian architecture in Virginia.
---
11:15pm-12:15pm
Guided tour of the American Revolution Museum at Yorktown
Gain a new appreciation and understanding of our nation's beginnings at the American Revolution Museum at Yorktown where America's evolution from Colonial status to nationhood is chronicled. Outdoor living history areas include a re-created Continental Army encampment and 1780s farm.
---
12:15pm
Depart for Williamsburg
---
12:45pm-2:00pm
Lunch at Merchants Square (on own)
---
2:15pm-4:00pm
Visit Great Hopes Plantation in Colonial Williamsburg
Experience everyday rural life in the 1770s at Great Hopes Plantation. From harvesting crops, grinding corn for food, tending to the animals, sawing wood for new construction or carrying water from the well, this hands-on history lesson is one you'll not soon forget. From the political unrest to the daily routines, Great Hopes Plantations tells the story of how our nation began.
---
4:00pm
Return to hotel to relax before dinner
---
5:30pm
Dinner and shopping at New Town (on own)
New Town is Williamsburg's vibrant 365-acre community where people play, work and live. Restaurant choices include Bonefish Grill, Blaze Pizza, Buffalo Wild Wings, Center Street Grill, Cogan's, Corner Pocket, Ichiban, Opus 9, Panera Bread, Paul's Deli and Z Pizza.
---
7:30pm
Return to the hotel. Colonial Connections Tour Manager departs.
Day 4 - Virginia Beach, Hampton
7:00am
Breakfast at your Williamsburg hotel
---
7:45am
Depart for Virginia Beach with your Colonial Connections Tour Manager
---
9:00am-10:30am
Visit the Adam Thoroughgood House
Adam Thoroughgood (1604–1640) arrived in Virginia in 1621 as an indentured servant. He became a community leader, a member of the House of Burgesses at Jamestown, and was granted a land parcel in 1636. One of the oldest homes in Virginia, this medieval English-style cottage sits on 4 1/2 acres of lawn and garden overlooking the Lynnhaven River. It was built around 1680 by one of Adam Thoroughgood's grandsons and the interior features exposed wood beams and whitewashed walls. Although the current furnishings did not belong to the Thoroughgoods, they are original to the period and reflect the family's English ancestry.
---
11:00pm-12:30pm
Visit Lynnhaven House
The Lynnhaven House is located on five and a half acres of land which includes a small woods and gardens of herbs, vegetables, flax, cotton, peanuts, and tobacco. Based on dendrochronology testing, the wood for the house was cut in the fall of 1724, thus the house was probably constructed in 1725. The house was restored in the 1970's and is 80-85% original. Lynnhaven House offers its guests much more than a display of architecture and decorative arts. Within its walls and on its grounds, household skills and the various crafts that produced the early lifestyle are still practiced.
---
12:30pm
Depart for Hampton and enjoy a gourmet boxed lunch provided en route
---
1:30pm
Visit the Hampton Carousel
Built in 1920, the carousel is completely restored to its original beauty and is housed in its own weather-protected pavilion on the city's downtown waterfront. It is one of only 170 antique wooden merry-go-rounds still existing in the U.S.
---
2:00pm-4:30pm
Cruise aboard the Miss Hampton II
This double-decked tour boat offers daily narrated cruises of the Hampton Roads harbor and Chesapeake Bay. As you enter the Hampton Roads Harbor, you will sail the waters of Captain John Smith and the first Jamestown settlers. The tour continues past historic Fort Monroe and the Old Point Comfort Lighthouse, the oldest continuously operating lighthouse in America. After an awe-inspiring view of the Chesapeake Bay the cruise will stop for a 30-minute guided walking tour of the Civil War Island Fortress of Fort Wool. Afterwards, get an in-depth view of the massive warships at the Norfolk Naval Base, home to aircraft carriers, nuclear-powered submarines and various types of support ships. The return trip to Hampton features a captivating narrative of the famous Battle of the Ironclads: the Monitor and the Merrimac.
---
4:45pm
Depart for Williamsburg
---
5:30pm
Dinner at Captain George's Seafood Restaurant
Captain George's legendary buffet has been heralded up and down the East Coast as one of the best collections of fresh seafood and regional cuisine available. Featuring a 70 item all-you-can-eat seafood buffet including Alaskan Snow Crab legs, steamed shrimp, Oysters Rockefeller, scallops, prime rib, and fresh broiled fish, along with a wide array of salads, entrees and desserts prepared fresh daily – there's something for everyone.
---
7:30pm
Return to your Williamsburg hotel. Colonial Connections Tour Manager departs.
Day 5 - Norfolk, Portsmouth
7:00am
Deluxe Continental breakfast at your Williamsburg hotel
---
8:45am
Depart for Norfolk with your Colonial Connections Tour Manager
---
10:00pm-11:30pm
Visit the Hunter House Victorian Museum
It is the end of an era, the gracious and elegant Victorian Era. It is a time when children amuse themselves outside with croquet and inside with parlor card games. As gentlemen and fathers spend their days in business establishments downtown, mothers and wives preside over the affairs of the home. Additionally, they interest themselves in gardening and handicrafts. We invite you to experience this by-gone era with a visit to the Hunter House Victorian Museum where you will be transported to a simpler and more gracious time.
---
12:00pm-1:00pm
Lunch at the Pagoda Garden and Restaurant (on own)
The Marine Observation Tower a.k.a the Pagoda was built in 1989. It was a gift to the Commonwealth of Virginia and the City of Norfolk from the Taiwan Provincial Government. The materials for the tower were manufactured in Taiwan and shipped to Norfolk for meticulous assembly by Taiwanese artisans. The Pagoda is the centerpiece of the Garden and it is home to an art gallery and restaurant that serves American and Pacific Rim cuisine.
---
1:30pm-3:00pm
Visit the Hermitage Museum and Gardens in Norfolk
The Hermitage Museum & Gardens, formerly home to the Sloane family, is an early 20th century Arts-and-Crafts estate located on the shore of the Lafayette River in Norfolk, Virginia. Featuring a nationally recognized art collection spanning 5,000 years, the Hermitage is home to the arts. Contemporary exhibition galleries, a Visual Arts Studio, working artist studios, and 12 acres of gardens and grounds offer art and culture to the community, as envisioned by the Sloanes.
---
3:30pm-5:00pm
Guided tour of Olde Towne Portsmouth
Portsmouth is a quaint seaport city that has managed to hold on to its 18th and 19th-century history and charm for more than 250 years. Still standing is the original downtown intersection that the city's founder, Col. William Crawford, dedicated to public use -- one corner each for a church, a market, a courthouse, and a jail. In fact, Trinity Episcopal Church on the southwest corner -- founded in 1762 -- still rings its bells across the street from the 1846 Courthouse that now serves as a museum. With six districts listed on the Virginia Landmarks Register and the National Register of Historic Places, Portsmouth is a history lover's paradise and boasts the largest number of historic homes and buildings between Alexandria, VA and Charleston, SC.
---
6:00pm
Dinner at Golden Corral (in Newport News)
Golden Corral family-style restaurants offer the biggest buffet and grill available anywhere. Their famous buffet contains an array of food choices including hot meat options, pasta, pizza, fresh vegetables, salad bar, a selection of carved meats and fresh baked goods and tempting desserts.
---
8:30pm
Return to the hotel. Colonial Connections Tour Manager departs.
7:30am
Deluxe Continental breakfast at your Williamsburg hotel. Colonial Connections Tour Manager rejoins group and facilitates check-out and baggage handling.
---
8:30am
Depart for Richmond
---
9:30pm-10:30pm
Guided tour of the Virginia State Capitol Building
The capital of Virginia was moved to Richmond during the American Revolutionary War and has remained the capital since 1780. The Virginia State Capitol Building houses the oldest legislative body in the United States, the Virginia General Assembly. It is one of only 12 state capitols in the United States to not have an external dome. Thomas Jefferson is credited with the architectural design of the Virginia State Capitol building, which was modeled after the Maison Carree at Nîmes in southern France, an ancient Roman temple.
---
10:45pm-11:15pm
Riding tour of Monument Avenue
One of America's most beautiful boulevards, tree-lined Monument Avenue is the only street in the United States that is a National Historic Landmark. After the Civil War, statues were erected on Monument Avenue to honor Confederate heroes. These include Confederate President Jefferson Davis, Robert E. Lee, commander of the Confederate Army, General "Stonewall" Jackson and General J.E.B. Stuart.
---
11:30pm-1:00pm
Visit the Virginia Center for Architecture
The Virginia Center for Architecture is dedicated to developing the understanding of architecture and its influence on our lives, our communities, and our world. In 2003, the Virginia Center for Architecture Foundation, facing a golden anniversary and a new century, purchased the landmark Tudor-Revival mansion designed by John Russell Pope, one of America's major architects. This new museum on Monument Avenue, serving the Commonwealth, expands exponentially the Foundation's ability to provide exhibitions and programs to educate and entertain Virginians and visitors, and transforms it from its beginnings as a scholarship fund to a public cultural institution.
---
1:00pm
Depart for return home. Colonial Connections Tour Manager departs.
Your Connection to Williamsburg